Flexi-Fi are delighted to be attending the Love your Home Show
As April comes to a close, we are delighted to announce our upcoming May events. First up we will be attending the Love your Home Show and afterwards we will be attending the Retail Retreat & Expo event.
Love your home show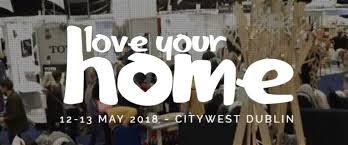 After 8 years of growth and success in Belfast, the Love your home show is now coming to Dublin. The hugely popular home show has already had over 25,000 homeowners registered to attend – we look forward to meeting you all.
Flexi-Fi, the only finance provider attending, will be at stand F2, ready to assist you with your applications and talk you through the process and benefits of Flexi-Fi.
If you're looking for ideas for your home, or if you have a project you need some expert advice on or maybe you're just looking for some inspiration… Love Your Home is the perfect event for you! Simply register for tickets . The event will host over 100 exhibitors covering the full range of home improvements, home security, energy as well as expert interior & garden design advice and the opportunity to support local producers in the Artisan Food Shop and Artist & Makers Village there is something for all tastes. Throw in Celebrity Chef Cooking Demos and the Agri-Aware Farm to entertain and educate the kids this is a great event for everyone.
---
Dates: Saturday 12th & Sunday 13th of May
Times: 10am – 6pm
Venue: CityWest Convention
Stand: F2
To apply for Flexi-Fi, all you need is a valid email address, your mobile phone number and meet the following minimum criteria:
Be at least 21 years of age

Be an Irish citizen or permanent resident of Ireland

Earn a minimum taxable income of €21,000 per year

Have a current credit / debit card and a Photo ID

Have a good credit history
Retail Retreat & Expo
Flexigroup offers a range of financing and leasing products for your business and customers.
We look forward to discussing how we can help your business grow through higher sales volumes and an increased average deal size. Give your customer the freedom and choice of spreading the cost of goods or leasing your products. If you would like to find out more visit stand H2.
Dates: Tues May 15th & Wed May 16th
Stand: H2
Times: 10am – 6pm
APPLY FOR FLEXI-FI
Follow us @FlexiFi_IRL and stay up to date on our upcoming events.
#FlexiFi